Indonesia has an area of more than 1.5 million square kilometers. This wide coverage surely needs infrastructures to play an important role in running the economic wheel stably and equally. Much development is needed in various parts of Indonesia, both in urban and remote areas. In this regard, PT Manna Jaya has decided to build and develop a business that focuses on goods procurement and contractor service to be able to contribute and participate directly to the community in increasing the economic growth of Indonesia.
ABOUT COMPANY
PT MANNA JAYA was established on March 2004, 23 and based in Bontang, East Kalimantan. With 15 years of experience, PT MANNA JAYA has been being excellent in providing the best services in the field of goods procurement (general supply for electrical, mechanical, and chemical) and contractor service. Therefore, PT MANNA JAYA has cooperated with many large companies. In accordance with efforts to improve the economy equally, procurement services not only cover the Kalimantan region, PT MANNA JAYA has expanded and continues to strive to reach various regions both locally and internationally.
VISION & MISSION
VISION
"Being a leading, professional, reliable, trusted, independent and useful company."
MISSION
- Business development with beneficial cooperation mutually.
- Focus on professional business establishment.
- Providing effective and efficient services.
- Become a trusted partner for government and private companies.
- Participate in accelerating economic growth by conducting business in accordance
with applicable regulations.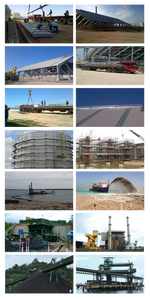 - INDUSTRY & MANUFACTURING -
CHEMICAL
Sodium Hidroksida, Sodium Nitrate, Sodium Hypoclorida, Anti Scale, Non Oxidizing, Anti Caching, Pewarna, Sodium Decocyl, Aluminium Activated, and Many more.
MECHANICAL
Pump, Turbine, Heat Exchanger,Boiler Equipment, Gear Reduction, Coupling, Belt, Reduction Cylinder, and Many more. Please contact us to get more information.
ELECTRICAL
Motor, Rotor, Servo Motor, UPS and Emergency Generator Set, Electrical Panel, and Many more.
INSTRUMENT
Instrument Valve Sensor, Control Transmitter, Installation Fitting, Conductivity and Resistivity.

- MINING -
CHEMICAL
Water Treatment, Degrease, Coagulant, Flocculant, and many more.
SAFETY APPL
APD, Environmental Protection, Industrial Safety, and Many more.
HEAVY EQUIPMENT SPAREPART
Under Carriage, Filters, Hose Hydraulic, Engine Parts, and Many More.
INSTRUMENT
APD, Environmental Protection, Industrial Safety, and Many more.

- PIPING & VALVE FITTING -
VALVE PVDA, BLOCK VALVE, STAINLESS STEEL AND CARBON STEEL.
GATE, CHECK BUTTERFLY VALVE, DIAPHRAGM VALVE.

- FILTERS -
SWRO - BWRO FILTER ELEMENT

- CONSTRUCTION FOR INDUSTRY -
Residential construction, bridge erection, roadway paving, excavation, demolition, rooftops, heavy construction equipment, dredging, electrocution, scaffolding, painting and repair, supply manpower and employment service.

- OTHERS -
MECHANICAL SEAL, GASKET, PACKING, BEARING, SEAL, RO, WTO, TUBE, HYDAC.